GIF Maker
GIFRUN on desktop allows creation of high-definition GIFs and WebP images as well as minting Ethereum non-fungible tokens (NFT).

Users can create GIFs/WebP from YouTube, Facebook, Vimeo, Twitter and many more sites that support online video.
Mobile version only supports YouTube videos and does not support minting NFT tokens.
A new animated format called WebP is now supported on GIFRun. WebP is a modern image format that provides superior compression for images on the web. Using WebP, webmasters and web developers can create smaller, richer images that make the web faster.
To get started, copy link of the video page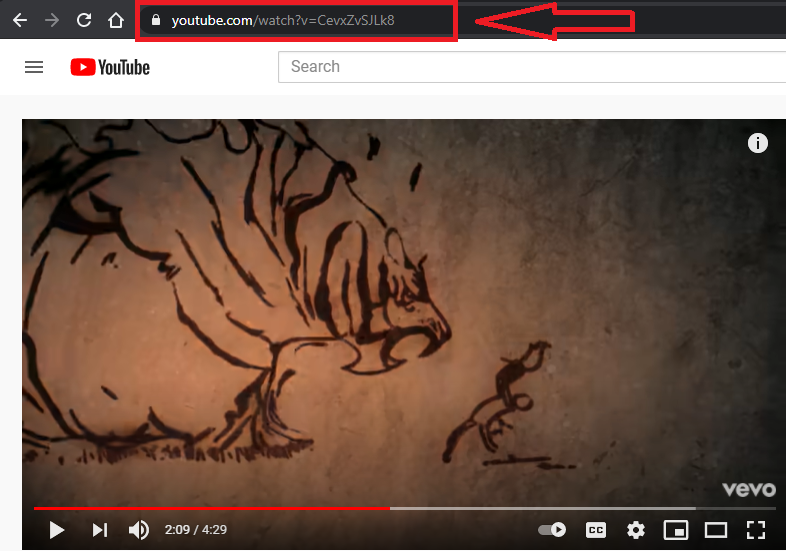 Paste the link of the video page into the text box


Play video

Preview video clip, loops only once

Skip 1/10 of second previous or next

Skip 1 second previous or next

Create GIF/WebP up to 15 seconds long

Select loop or bounce effect
| | |
| --- | --- |
| Loop | Bounce |

Select from 8 filters and apply to a GIF
| | | |
| --- | --- | --- |
| Original | Sepia | Silver |
| Xpro | Vintage | Vignette |
| Nolan | Jasmine | |

Add text to GIF, select from large selection of fonts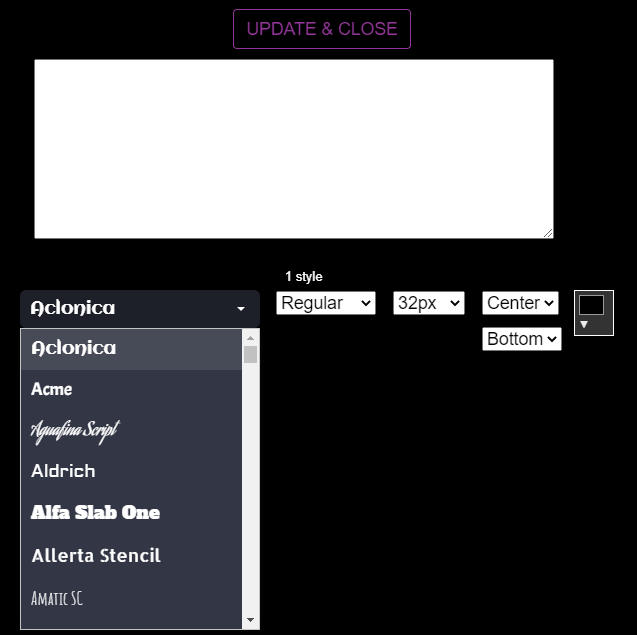 Crop GIF/WebP, new window will open with cropped image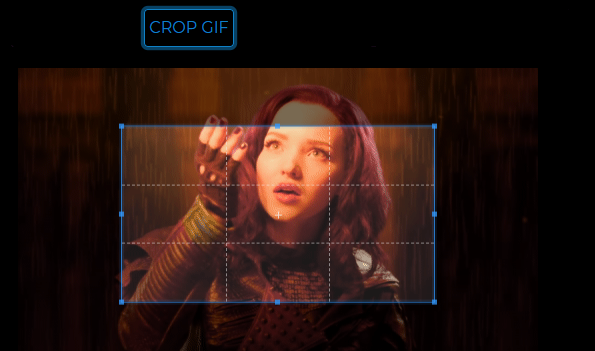 Download image to your local drive
Maximum GIF length can be up to 15 seconds long.
Maximum GIF width is 520px wide for landscape and 520px in height for portrait orientation.
Text can be applied to GIFs, large selection of fonts is available and can be applied to various areas of the GIF.
Cropping functionality allows to quickly crop a GIF while preserving the original image.
Mint an NFT
Minting an NFT is a 2-step process
Step 1
Upload GIF file and metadata to
IPFS
.
InterPlanetary File System (IPFS) is a peer-to-peer network for permanent and immutable storage.
Along with uploading a GIF file, you will need to provide information for
metadata.json
which will also be uploaded to IPFS.
Once GIF and metadata is uploaded to IPFS, link to the metadata file will be used in the token URI.
Click on the MINT NFT button to start the process.

Enter name, description as well as any custom attributes.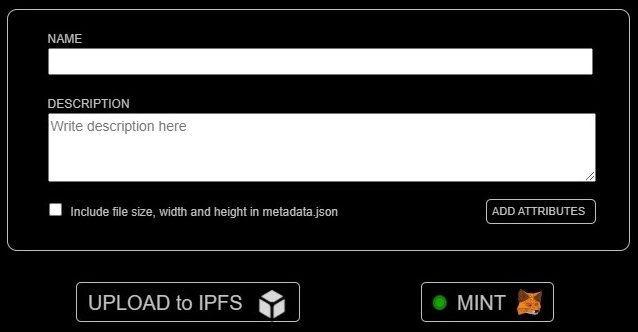 After uploading to IPFS, you will receive a link to the metadata.json file as well as the link to the image for preview.

The link to the metadata.json file will be embedded in the token. Its extremely important to ensure information in metadata is correct before minting.
Example of metadata.json file which is linked to the token.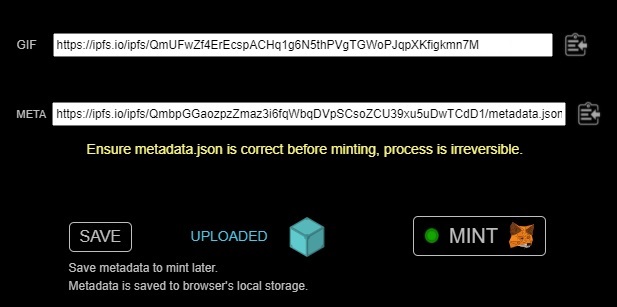 Step 2
Mint an Ethereum NFT
ERC-721
token using MetaMask. MetaMask browser extension is required to mint Ethereum token.
Once MetaMask is installed, click on the MINT NFT button and the MetaMask window will come up. You can either confirm or decline the transaction.
Depending on a number of factors, minting process may take a bit of time, but usually it completes in minutes.
Make sure the metadata.json file is correct and all the information in it is accurate. Once minting occurs, the link is embedded into the token and is not possible to change the link or any information in the metadata file.
Metadata can be saved to browser's local storage to mint later if the Ethereum gas prices are high.

Metadata stored locally is encrypted. Data is not stored on the server and only resides in the local storage, data can be deleted during browser cleanup, reset, etc.

Data is stored permanently in IPFS so deleting data locally will not affect it, however, it's always a good practice to save a link to metadata.json somewhere else.


When signed in with MetaMask, users can access their NFT tokens and token blockchain information.